Hey guys! Sorry I have not been posting for a while, but I thought I would share some ideas of how to store makeup brushes.
1)Plastic Trays. If you prefer having access to your brushes in drawers(or anywhere else)I suggest plastic trays. These can be from actual cosmetic trays to kitchen silverware trays.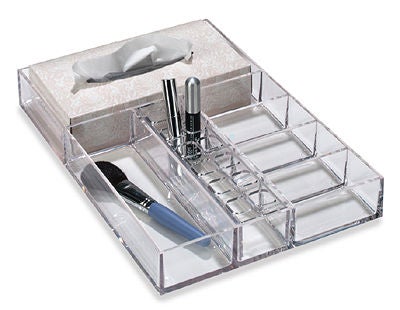 Picture from the containerstore.com
2) Kitchen Utensil Holder. If you are a makeup brush fanatic, then this is the storage for you. If you watch Elle Fowler, or allthatglitters21 on YouTube. Her most recent makeup storage video shows one of these. Sorry, I was not able to find a photo:(
3) Plastic Containers. This is the method I use on a day-to-day basis. I got this container from my friend around christmas, and it was filled with BBW goodies! I decided to use the container because it was cute and it might go to waste, so I filled with rice. I used rice, so my brushes would stand up. I use this method so my brushes are in reach.
Well those are 3 simple ways to store your make-up brushes.
Don't forget to comment and become a member.
What way do you store your brushes?