Hello everybody
♡ If you
remember
a long time I wrote this post on how I wanted to meet other beauty and fashion bloggers/
You-tubers
. I set up an entire plan that I was going to make a blog hop were we could all be social and meet one another. Well I am bringing it back!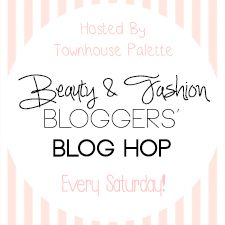 The button is a step up from the last one, right?
So anyways,
I am planning to start this blog hop on Saturday the 13th of July, 2013 ( a week from today )!
I wanted to do it on a Saturday because a lot of bloggers are still students or have busy week day schedules. The weekend are days we can catch up on work, go to parties, and of course: attend blog hops!
Now all I need is the help of all beauty and fashion bloggers who want to attend the bloghop. I ask of you, very kindly, if you would add this button to your sidebar of your blog and maybe add a short sentence at the end of your posts to inform others of the hop too. This effort would be up-most appreciated.
I am also calling anyone who would like to co-host with me on the very first one.
My spots are filled up for this week and next week! Thanks for all who want to participate!
-Their own thumbnail dedicated to them in the post
- Links to their social media
- More traffic to your blog
- A
chance
to meet other bloggers!
If interested please email me at:
say your name and blog or youtube
A question you might be asking, What are blog hops?
Blog hops are social gatherings on the internet where you meet other bloggers like you. The best part is you don't to dress up or leave home. Some blog hops maybe more open, while others to a certain type of niche. One that is more open would be the Aloha Blog Hop by What Jean Likes, which is a great blog hop where you meet tons of other people. One to a certain niche would be this one, for fashion and beauty bloggers. Go to the Aloha hop to get a feel how to participate:)
ALL BEAUTY AND FASHION BLOGGERS FROM AROUND THE WORLD ARE WELCOME!